My annual holidays officially started at 12.30pm today!! I'm now on holiday until the 16th January!! It hasn't really sunk in yet, as its been rather hectic this week, trying to finish last minute reports at work and getting ready for a staff/client christmas party this morning as well as a staff farewell. We had so much fun this morning - everyone dressed up, I was a fairy, and we had Santa Claus, Rudolph, Mrs Christmas, a Wiseman, lots of reindeers and angels. There was a Christmas quiz, and jokes, and presents and of course, strawberries, icecream, cream puffs, and meringues -yum! It was so wonderful to see all my clients enjoying themselves before they went off on their 3 week break. After having lunch out with my Mum and friends Wendy and Mary, a bit of an annual tradition for us the week before Christmas, I did a few jobs in town before coming home.
Here's Celtic Winter as of last night BUT just before I put her down to head off to bed I realised I've made a big whoops and have miscounted somewhere. Rather than trying to work out where the mistake was last night, I will have a look to try and figure it out later nd hope its nothing too major, lol.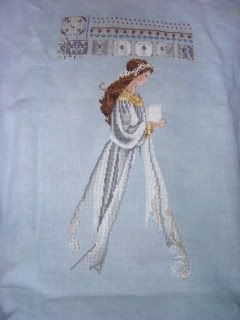 A little bit of stash aquistion this week too - Mirabilia's Santa's Magic and JBW Designs Reindeer Parade.