Its that time of the year again - time to get out the christmasy fabric, ribbon, charms, etc, and the sewing machine too, in order to get all the ornaments I've stitched throughout the year made up. Over the past week or so, I've finished these few off: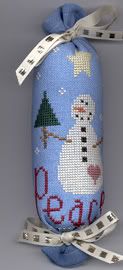 Peace, a freebie by 4 My Boys.
Christmas Kitty Moon by Stitchy Kitty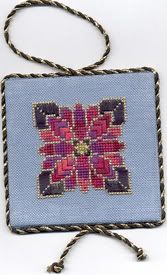 Poinsetta by Amarylis Artworks - this month's choice in the
JCS Retro RR
.
I still have several to make up - two of the M Design trees into mini banner, two that I'm going to try a
no sew cube it method
with, and some more flat ornaments which will be gifts for friends.
Yay, I received confirmation last night that I was the successful bidder on
Trademe
for two Elizabeth Designs patterns,
Black Sheep Sampler
and
Beehive
, two more for my ED pattern collection.