Not alot going on here folks except for wedding planning, more wedding planning and even more planning!! The past week has gone by in bit of a whirl wind to be quite honest as we get even closer to the big day, only 9 days to go now. I've got hardly any spare time at the moment -between phonecalls, list after list, dress fittings, trying to do 101 things during an 1 hour lunchbreak - whew! but we're getting there and the end is in sight.
On Saturday afternoon my two cousins Odette and Kimberley threw me a bridal shower/hen's party and what a laugh it was. I have to admit I was a little nervous beforehand, especially when I'd been told to take my swimming togs and a change of clothes but that was all a big windup. I had to wear a hat with all sorts of things hanging off it and I wasn't allowed to mention "Glenn" or "wedding" and if I did I had to blow the hooter I had hanging around my neck within 15 secs or else I had to put on something silly to wear. I ended up with quite a few extra things hanging off me!! The girls had organised some great games and I have never laughed so hard as I did while watching my mum and Glenn's mum trying to dress themselves up with a blindfold on. The theme for the presents was the letter "K" and I got some great gifts including an essential wedding night kit, something old, something new, something borrowed and something blue.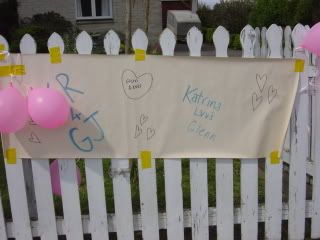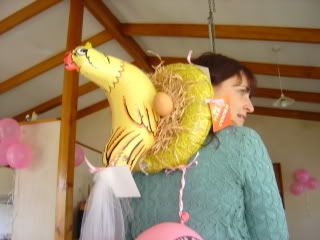 the hen's night hat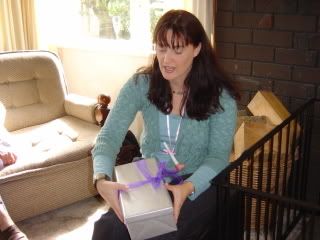 opening presents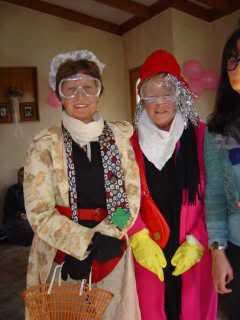 Heather (Glenn's Mum) and my Mum Shirley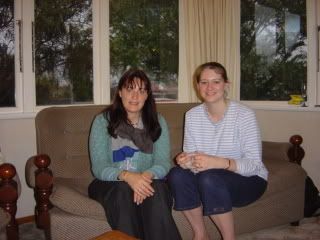 my cousin Odette (my matron of honour) and I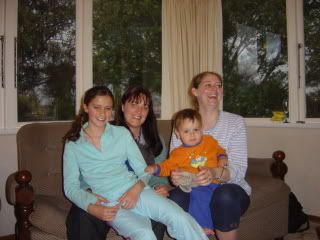 Odette, her son Josh, her sister Kimberley (my junior bridesmaid) and I
Later on in the evening some of us went to a local bar for some more drinks and the girls started buying me cocktails - oh my poor stomach, I won't mention the names of the cocktails here, lol.
I got home about 2am and Glenn arrived about an hour later from his night out that his groomsmen had organised. Sounds like they all had a great night too. Sunday was a very quiet day around home for us, as you can imagine,lol.
stitchingwise, Celtic Winter is coming along and I've even started some of the beading on her. I've also made a start on the Retro Ornie - its over 1 which I'm finding quite slow going as I haven't done a lot of over 1 stitching before. That will be my main focus this week I think.