This is my most recent scan of the CBS Sampler - some of the bottom bands have been chopped off as its now too large to fit in the scanner!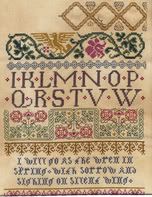 I've been stitching exclusively on this piece since finishing Emmy - a happy dance may be in sight in the next week or two. I doubt that I will get much done on it over the weekend as we're going to be helping my parents as they move to their new house.
Its the freebie stitchalong on the
Needle and Thread board
this coming weekend and I have chosen a Stitchy Kitty Freebie to stitch, "Meow Spoken Here".
Now for some Stitching Blogger's Questions:
Have you ever done a colour conversion? If so, what did you think about your results and would you do it again? If not, would you like to trysomeday?
I have never actually completed my own colour conversion of a pattern except for when I have substituted threads that I may not have had in my collection. I'm not very imaginative when it comes to colours and design, would never be an artist thats for sure, lol. But I have used other stitcher's conversions for some of my projects including one I remember using for Bent Crenk's Swirly Sampler, and I'm going to be using a conversion for Lavender and Lace's Celtic Autumn soon.
What is your most unique/interesting stitching quirk? (This could be something concerning the way you stitch, how you organize your stash,etc.)
Umm, I've been thinking about this one for the past few days and I thought of a couple of "quirks": up until this year I'd always completely finished off my stitching projects, whether it was to have something framed, made into an ornament, needleroll, etc, but now they go into the to -be- finished drawer, lol. Another one is I always "file" away all the leftover threads, patterns, beads or anything else from a project as soon as I finish it. I've just thought of another one: I have to sit and stitch in the same spot in our lounge otherwise it just doesn't feel right, lol.
I probably won't get to post here for a few days so I hope you have a great weekend my stitching friends, and take care!