I've been happy dancing all over the place today as my Petal Fairy is completely finished. Here she is: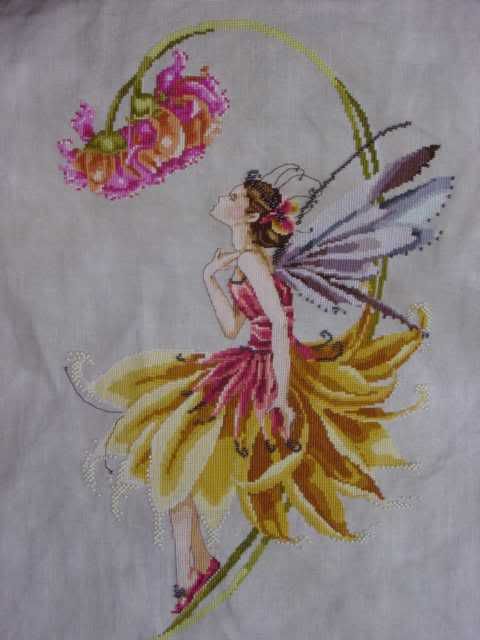 (Stitched on 32ct Pipi Belfast, from Countrystitch)
I just loved stitching her and in a way, I'm sad that she is finished. But I get to something new right? This afternoon I've kitted up the Emerald Mermaid by Mirabilia, which I'm intending to stitch for my Swedish friend Petra. Petra came to visit me in New Zealand last year and I asked her to chose a Mirabilia cross stitch pattern that I would stitch for her. She actually chose Waiting for Ships but when I emailed her the picture of Emerald Mermaid recently she really liked it. I hope I can part with it when its done, lol.
I have also done a floss toss this afternoon for Homespun Samplar's Celtic Band Sampler, which I'm going to be doing a SAL with
Dani
in May. This pattern has been in my stitching basket for ages now so I'm looking forward to getting started on it. I think I'm going to use a piece of Kiwi from Countrystitch, which I'd orignally bought for Lavender and Lace's Celtic Autumn.
Its been a productive afternoon as I also finally got around to framing the birth sampler for my friend.