Righty ho, I think I've just sussed out what's been going on with my blog. This morning when I changed one of my links I think I might have accidently deleted a part of the code. So after painstakingly checking through everything, and even completely redoing my template, I think its ok now :) Thanks Jenna and Anne for the suggestions.
On Tuesday evening my local stitching group had its first get together of the year. We had a new member join us and one of the original members came along for the first time in quite awhile. It was so interesting to see what everyone was stitching on, quite a range of different designers - Heaven & Earth Designs, JBW, the Sweetheart Tree, a Disney pattern, Country Cottage Needleworks, Elizabeths Designs and several members were doing other forms of embroidery including wool embroidery. The evening soon flew by as we caught up on everyone's news, we hadn't met up since November, and I don't think anyone wanted to go home as we stayed well past our normal finishing up time :)
Because I knew there would be lots of chatting going on, and probably not alot of stitching, lol, I took along Winter's Eve and was able to finish it just before heading home.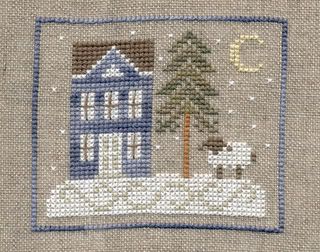 Winters Eve- Country Cottage Needleworks JCS 2006
Stitched on 28ct raw cashel linen
with DMC, Crescent Colour and Weeks Dye Works threads
Tonight I'm starting a new SAL with the kiwi girls (Kath, Lisa and Pat) with the JBW Designs Advent Calendar. First though, I've got a bit of basting to do on the fabric as I'm going to stitch the 24 small designs on the same piece of fabric.
I've got a long weekend coming up, yay! Since its a New Zealand public holiday Tuesday, Waitangi Day, I've decided to take Monday off work as well. Its going to be a very quiet weekend around home as Glenn heads off in the morning to Wellington to the International Rugby 7's and doesn't get home until Sunday. I think a very stitchey weekend is on the cards!