So last night I finished Wandering Shepherd :)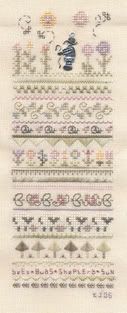 Wandering Shepherd - Shepherds Bush, stitched on 32ct cream lugana.
This isn't a great pic as its a scanned one so I'll try and get a better on with my camera later. I honestly can't remember when I actually started this but I think it was way back in March or April. I'm going to look for some hangers this coming weekend to turn it into a bellpull.
I received my recent order from
Stitching Bits and Bobs
yesterday and got:
Little House Needleworks - City Stitcher, Country Stitcher; The Bookshelf; Season of Growth; Moon and Stars
JBW Designs -
French Country II (Lamb)
the next three Lizzie Kate Christmas Blessings - Caring, Family and Faith
Lizzie Kate -
Just Be Claus
Bent Creek's Spring Snapperland -
Hutch
and
Coop
Mill Hill beads for the
Bliss Fairy
a CD of the Town Square freebie designs
and several Weeks threads from my thread list.
That sure was a great parcel to come home too after work yesterday! I'm really hoping that my order from Needlecraft Corner arrives before Friday lunchtime so I can take everything with me on retreat :)
For those that have asked about the bag pattern,I'll be in touch sometime after the weekend as I don't think I'll get time between now and then to get it sent out.
Have a good day stitching friends :)