It was my monthly stitching group get together last night so I took along Little Pink Houses and managed to get it finished just before I left to go home.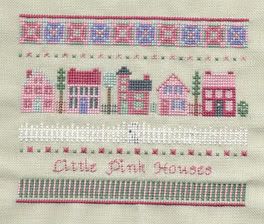 Little Pink Houses - M Designs, stitched on 32ct Waterlily Jobelan using DMC threads.whoops, this scan is a bit wonky!!
My ornament for the Stitching Bloggers Exchange is also underway. I can't say what it is obviously but I'm enjoying stitching it so much, I might just have to stitch it again, lol. The plan is to finish the stitching over the next few nights and then "ornamentify" it over the weekend, as this coming weekend is our last free weekend before the wedding.
Thank you too, for the all the comments left about Winter into Spring, they are muchly appreciated :)