During the weekend was my birthday, so I'm now officially over the hill as one friend kindly told me, lol. I received some lovely gifts - my parents bought me a lovely beaded necklace, and some office organiser supplies for my office, as well as treating me to a facial and manicure later this week. Glenn bought me a new stereo system with outdoor speakers so when we are outside enjoying a barbeque or drink on our deck we can blast our music really loud, lol. Glenn's parents gave me a bottle of perfume, a Revlon one called Love Her Madly, which is quickly becoming a favourite! I also got some chocolates, book vouchers, another lovely necklace and earring set, two Espirt tops, and a small handbag to add to my collection. I think my friend Tracey thinks I have a handbag fetish, lol.
I also received some wonderful stitched gifts from a couple of friends which I think are just gorgeous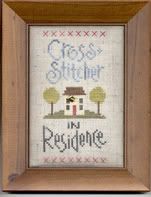 and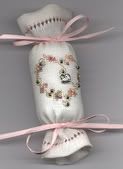 from my friend Kath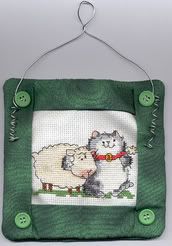 Aries Cattitude stitched by my friend and co-worker Wendy.
I had a lovely birthday, and was truly spoilt. I spent most of the day at home, just pottering around, and then in the afternoon my parents, Glenn's parents and a couple of friends came around for dinner. The "girls" watched a dvd - the Notebook, while snacking on popcorn, marshmellows and chips & dip! The guys were relegated to the garage, lol.
Stitchingwise, I'm pleased to report that Real Roses is finally done, and I will have a pic to share later. Its now away being framed, as well as the Petal Fairy, in time for my stitching group's annual exhibition in a few weeks time. On Sunday night I started a small Sweetheart Tree kit that I was given for Christmas,
Victorian Violets
, which might be finished in the next day or two as its a fairly quick stitch.
And I think my order from Stitching Bits and Bobs might be on its way too (but I won't get my hopes up, lol) as when I checked the order status earlier on it said it was being packaged for shipping. I really splashed out with this order and was able to cross off quite a few patterns and threads on my wish list, there goes the cross stitch diet!!