As I didn't set any stitching goals for January I can't do a recap so here's my list for February:
Finish and frame Bears at Work - Firefighter by EMS.
As this is a paid stitching job this will be my focus project until its done.
Christmas Ornament.
Maybe JBW Design's Holly Noel?
Small gift for Seasonal Exchange.
I came across a freebie on the
Rainbow Gallery
site the other day, Snowman
by Erica Michaels, which I thought would really cute to send to my seasonal exchange partner. Here's the pic from Rainbow Gallery.
This is my most recent Petal Fairy progress pic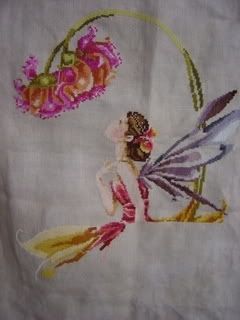 and some recent knitting happy dances